Swipe to the left
Why a Subscription From Quality Air Filters is a No Brainer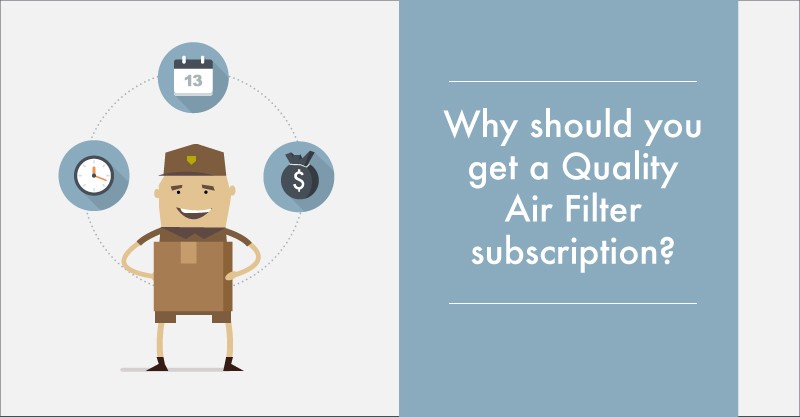 From your favorite big box store to the local home improvement shop, air filters aren't exactly hard to come by. So why should you join our filter subscription service instead of just grabbing them when you head out to pick up your toiletries? It's a good question, and a very easy one to answer:
We Keep Track of the Time
You want to replace your air filters on schedule, you really do. But days turn into weeks, and then the weeks turn into months, and before you know it it's the holidays again and you haven't changed your filters since last Halloween. With our service, your new filters will show up on your doorstep exactly when you need them, so you don't even have to mark your calendar.
You Don't Have to Leave the House
Well-made, effective, high-quality air filters delivered right to your doorstep. What's not to love about that? Even if you do go shopping regularly, it's one less thing you have to worry about dragging in and out of the car.
There Are No Sizes Off Limits
If you are the lucky homeowner of an air filter size that seemed to be created just for your home, trying to track one down locally can prove downright impossible. Have no fear; at Quality Air Filters, we will create any size you need with no extra cost to you. And if you have one of the common sizes, we have them in stock and ready to ship.
It Will Save You Money
You would think with all of this convenience and peace of mind you would be paying a hefty surcharge—but it's actually the exact opposite. Our pricing is very competitive, and it will beat almost every retailer out there by a substantial amount. Oh, and did we mention we don't even charge for shipping?
You Get Amazing Filtration
Even with the lowest prices and the free delivery, you still get the best quality filters on the market. From our Good, Better, to Best options, you choose the level of filtration that you need, and you can rest easy knowing you will be breathing clean air until your next shipment arrives.
Your Filters Are Guaranteed
Sure, some stores have decent return policies, but not all of them will let you bring something back once it has been opened. At Quality Air Filters, we have a 100% guarantee, so you can always return your filters if you aren't completely satisfied.
So let's sum this all up: With Quality Air Filters, you set up your subscription—which takes about five minutes—and get highly effective air filters delivered to your doorstep, on schedule, for less money than your favorite big box store charges. It seems like a no brainer to us.
LIKE WHAT YOU'VE READ?
Enjoy this article? Share it with others using the share buttons. To get the best articles on air filters in your inbox – sign up for the QualityAirFilters newsletter: